Professional Tools Everywhere
February 21-23, 2016
Metrictrade at The Traders Expo New York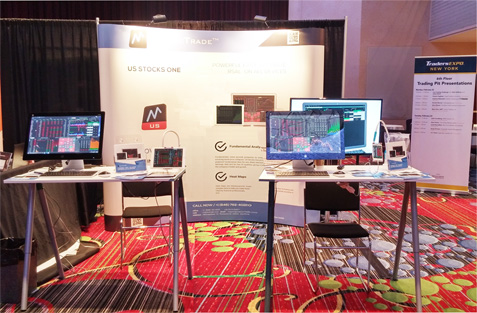 We would like to thank everyone that visited our booth at The Traders Expo New York. We appreciate the time you took to meet us and find out our new product "US Stocks One". We will be very happy to see you again at the next show that we are going to participate, for which you will be informed in time.
2015 - US Stocks One™ brings a modern universal stock analysis environment for all devices: Phone,Tablet,PC or Mac with Android,iOS or Java. It is the easiest and most reliable way to track US stock markets in real time from any location.FREE ACCESS to all MB Trading users.
2012 - ZTrade One application offers to your mobile devices unprecedented stock analysis capabilities.
2001 - ZTrade application has been providing the easiest and most reliable way to monitor exchanges and place orders in real time. With strong technical and fundamental analysis and a streamline operation, the application allows professional monitoring with minimum hardware and software requirements, with automatic installation without any maintenance requirement.
Month-to-Month
Realtime US Stocks
Realtime Charts
Strong Fundamental Analysis
Heat Maps on Performance and Fundamental
Fully Customizable Layout
One app for all devices
Sign Up Now
-20%
Annual billing
Billed as one payment of 105.50$
Realtime US Stocks
Realtime Charts
Strong Fundamental Analysis
Heat Maps on Performance and Fundamental
Fully Customizable Layout
One app for all devices
Sign Up Now